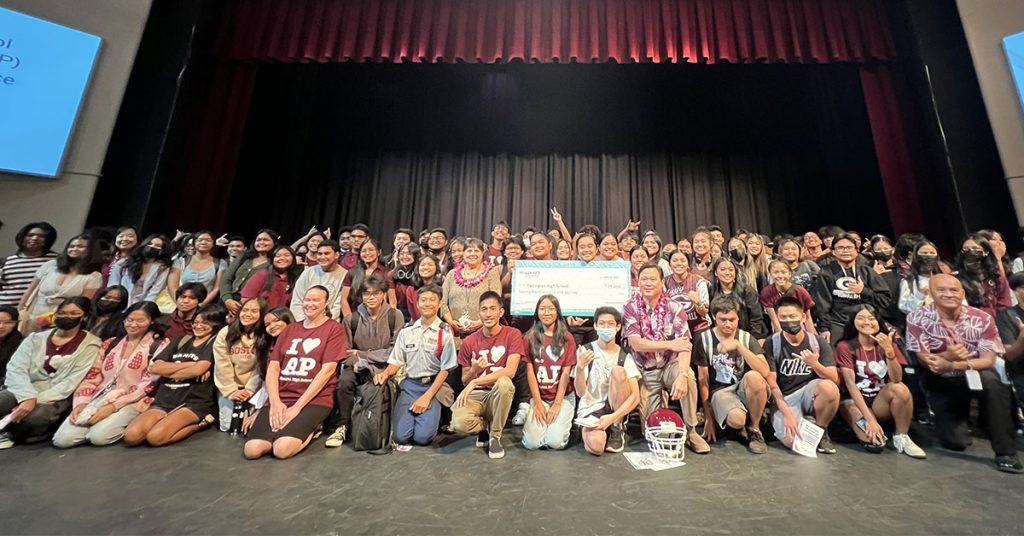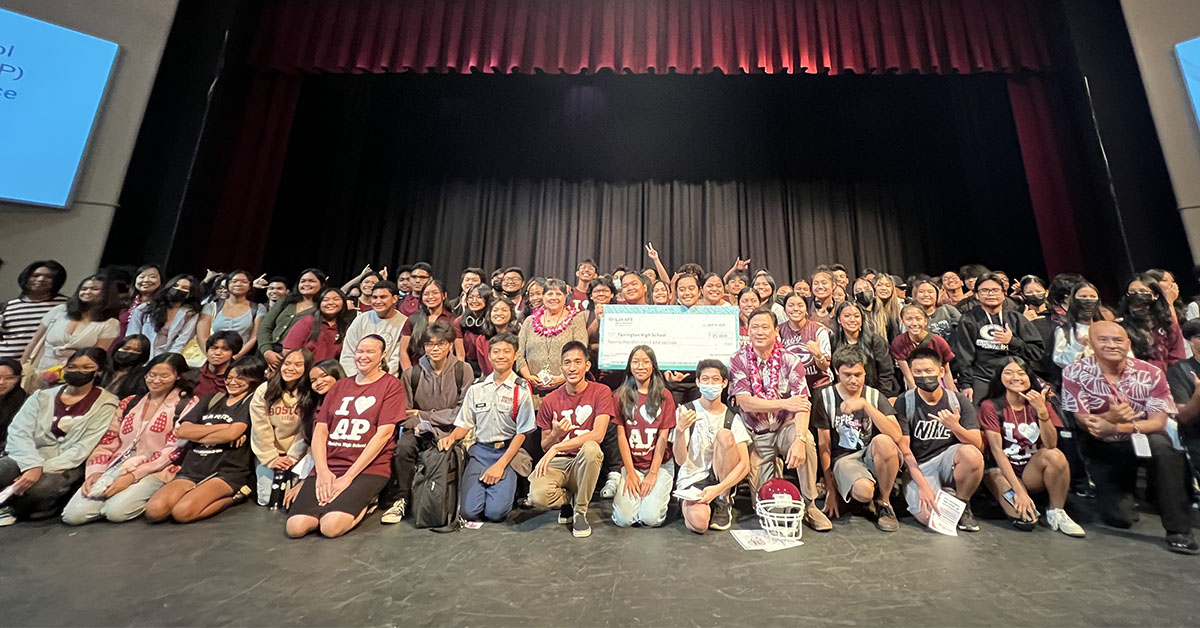 Farrington Launches "College Bound" Fund with $25K UHA Donation to Reduce AP Test Fees to $20
-UHA Has Partnered with Farrington Since 2020-
Honolulu, HI (April 14, 2023) – UHA Health Insurance has donated $25,000 to Farrington High School's Advanced Placement Program to reduce the cost of an AP test to only $20. (A single AP exam costs $97 – and many students take more than one AP class in an academic year.)
The donation launches Farrington's "College Bound" Program Fund, which supports initiatives that will encourage its students to potentially earn college credits and strive for higher education.
"I am overwhelmed by the generosity of the UHA 'ohana, and I know our students are thrilled by the amazing support from one of our partners. This donation will allow our students to participate in yearly AP testing, but more importantly, increase AP enrollment as the financial burden for this test is lifted by UHA's monetary donation," said Farrington Principal Alfredo "Al" Carganilla.
Earlier this afternoon, UHA presented the $25,000 check at an assembly that featured a wide array of Farrington AP students who served as emcees, speakers and musical performers. The student-led event celebrated the diversity of Farrington's most academically focused pupils, as well as their dedicated educators and the enriching school programs that support them.
Since 2020, UHA has partnered with Farrington, providing mentors and expert speakers for the school's business and health academies and presenting at its annual career fair to help guide students as they explore possible future studies and pathways to fulfilling work.
"As we deepened our ties with the Farrington community, we were inspired to see what else we could do to support student achievement," explained UHA President & CEO Howard Lee. "Through our discussions with the Farrington administration, we learned that AP exam fees can be a burden on area families – and even a deterrent to some students who may not even register for an AP class because of concerns over paying for the exam at the end of the term."
Out of a student population of approximately 2,175 at Farrington this academic year, some 57% are considered economically disadvantaged and receive free or reduced-price school lunch. Over the course of its relationship with the school, UHA realized that many families are struggling – and AP exam fees are due at a time of the school year when families face many other expenses. While federal programs exist to reduce AP fees for students from the very lowest of income levels, UHA was determined to step in with financial support to assist not only current AP students, but also to encourage other students to consider taking these advanced classes next academic year.
About Farrington's AP Program
This year, 239 students are enrolled in at least one of the nine AP courses offered at Farrington. AP courses offered include U.S. History, Environmental Science, English Language and Composition, English Literature and Composition, Art, Calculus, Human Geography, Statistics and Psychology. The current AP Program was initiated by Principal Carganilla in 2011; a proud Farrington alumnus himself, he was disappointed to find that his alma mater no longer offered AP courses when he returned to lead the school, so he set out to re-establish the program.
About UHA Health Insurance
UHA Health Insurance provides medical, drug and vision plans to nearly 4,300 Hawai'i employer groups and over 60,000 members. As the only health plan in Hawai'i founded by physicians, it was the first to offer preventive and wellness care focused health plans in the state. It continues to be physician led and offers the largest physician network in Hawai'i. By meeting strict quality standards to ensure clinically sound decision-making that respects the rights of patients and medical providers, UHA received accreditation in Health Utilization Management through URAC, the independent non-profit that promotes healthcare quality. For information, visit uhahealth.com or follow @uhahealth on Twitter.
###
MEDIA INQUIRIES:
Deborah Sharkey
Phone: 808.349.8221