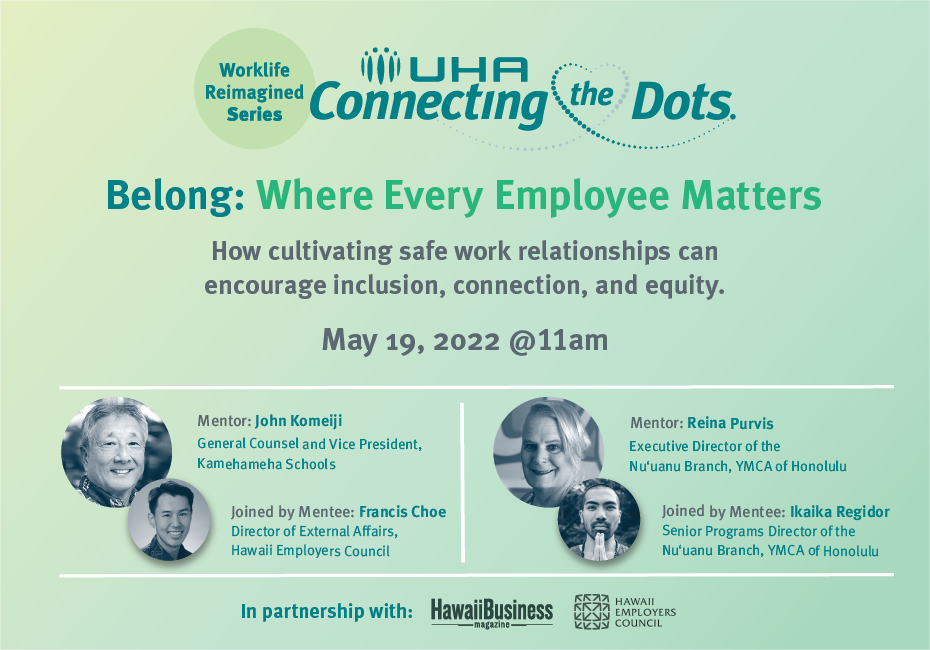 Belong: Where Every Employee Matters
How cultivating safe work relationships can encourage inclusion, connection, and equity.
When companies support employees, employees feel accepted and appreciated. As a result, employees become more engaged, empowered, and the company prospers by harnessing the full capabilities of every member on the team.

This past webinar we followed the well-being journeys of Francis Choe, manager of external affairs at Alexander & Baldwin, formerly the external affairs director at Hawaii Employers Council, and Ikaika Regidor, senior programs director of YMCA of Honolulu, Nu'uanu Branch, as they shared their personal stories of inclusion, trust and belonging, told from an employee point of view.

Also participating in the discussion is Francis' mentor, John Komeiji, general counsel and vice president of Kamehameha Schools, and Ikaika's mentor, Reina Purvis, executive director of YMCA. Hear from both leaders on how they responded to their employees' struggles, gained their trust and worked to provide a safe environment that embraced diversity and equity.


View the complete transcript here.

View the complete webinar below:

Get the latest highlights, insights, and key takeaways from the webinar here.

The free webinar was moderated by Michael Story, senior workplace wellness advisor at UHA Health Insurance. Viewers learned about the human need to belong, actions to become a more trusted leader, steps to create a safe workplace environment, and ways to instill a culture of inclusion.

Belong: Where Every Employee Matters, is sponsored as a community service by UHA Health Insurance, in partnership with Hawaii Business Magazine and Hawaii Employers Council.