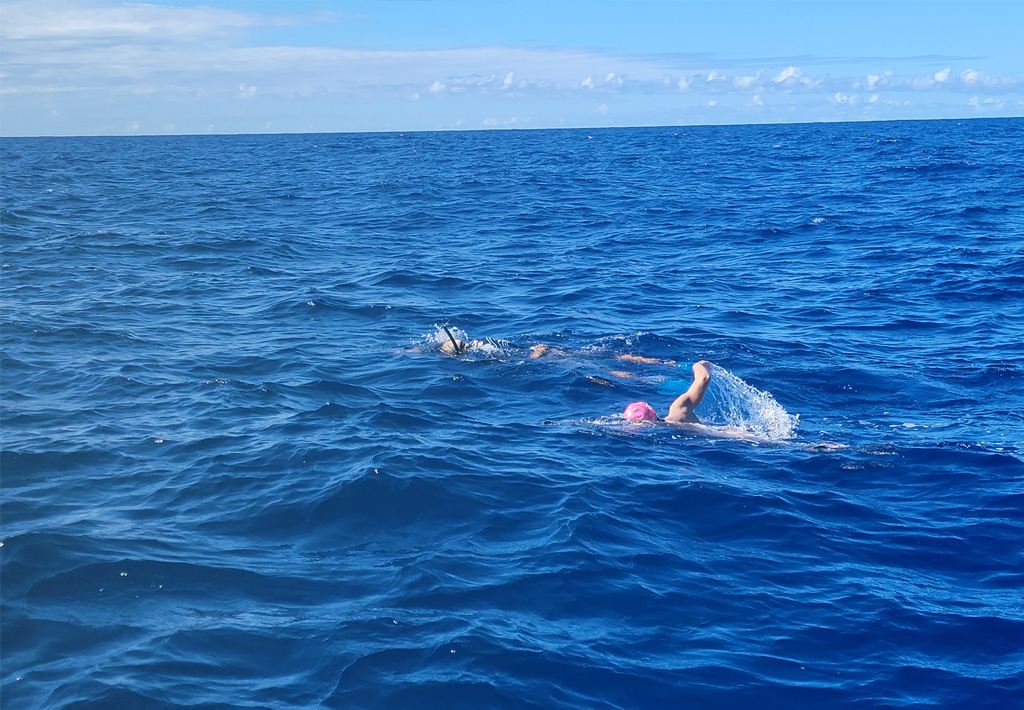 Finding your Why with Terri Dietz
in
Blog
by
UHA Health Insurance
A story of resilience, perseverance, and finding your tribe
UHA podcast guest, Terri Dietz went above and beyond her limits by completing the Kaiwi Channel Swim this year. We sat down with Terri and asked her what it took to accomplish such a feat.
Tell us a little bit about the Kaiwi channel Swim.
The Kaiwi Channel Swim is a 28-miles swim from point to point between the island of Molokai and Oahu. The swim starts on Kepuhi Beach on Molokai and finishes at Sandy's Beach on Oahu. The Kaiwi Channel is one of the Ocean 7's swims a marathon swimming challenge this is equivalent to the Seven Summits Mountaineering. This swim was every bit majestic as she was humbling!
For the swim to count, the swimmer must wear a bathing suit, swim cap, googles and sunscreen (along with anti-chaffing creams such as Vaseline) and cannot be given any floatation or assistance or rest along the swim. However, food is allowed to be thrown out to the swimmer in intervals of the swimmer's choosing. Fueling bottles are attached to lines. This way we do not lose the bottles in the ocean and makes for faster feedings!
Our previous guest, Dr. Michelle Segar taught us that finding our "why" is important to creating lasting change. What was your "why"?
Very simply, I wanted to know if I could do it. Three years ago, I asked my swim coach if she thought I could ever get faster and better at swimming. She said, "Terri I have no idea. But I'll tell you what, let's find out." And that's what started my journey into channel swimming. Prior to Ka'iwi I had to be able to swim a 10k (6miles) then I swam shorter channels in Maui.
Underneath the why was a deeper ask of the training and of the swim, I wanted to learn something. That something turned out to be PATIENCE. There is way more to patience than taking a deep breath. Learning how to practice and what is gained became part of the lesson(s) I learned from Ka'iwi. Patience provided me the persistence and confidence which allowed me to keep swimming after being in the ocean for over 18 hours. In return I was able to test my potential! Needless to say, I think I will be learning to practice patience for the rest of my life. I can see why patience is considered a virtue.
What did you do to prepare?
There were many pieces to this channel swim I needed to prepare for this attempt.
Mental training was a huge part of this. Learning how to quiet the mind so I could allow my training to takeover and body just to keep swimming during the attempt. Trust me, you will be presented with challenges out there!
I also needed to assemble my boat captain and team for the attempt, figure out the best month and dates for the attempt. Weather plays a huge role in channel crossings.
Prepare my fueling and practice with it to see what worked best.
Sleep and recovery.
Prepare all the gear. Sounds simple but there were a lot of different things I hadn't thought about. Things like a headlamp for night swimming, at least two pairs of googles and back up swim caps.
All these little things make a huge difference in your attempt. Be prepared for anything and everything that can go wrong.
What was your training routine like?
A lot of well thought out ocean and pool training prescribed by my swim coach. Along with weight training and recovery work. January 2022 through the beginning of Sept 2022 I had logged 400 plus hours of swimming and a little over 750 miles. I have been mentored and prepared to always be able to swim that "extra mile" The channel swim itself is 28 miles in a straight line, but who swims straight. I actually swam 33 miles once the swim was completed.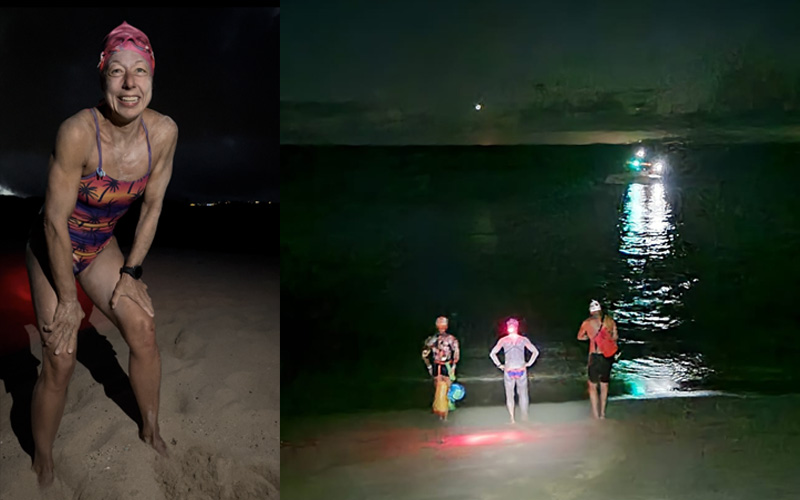 During your training, were there moments of self-doubt, or a loss of motivation? If so, how did you overcome it?
I was very motivated! I kept my WHY front and center. Self-doubt and a bit of fear crept in here and there during training. I had a few swims when I finished, I remember thinking to myself, "What in the world am I thinking?" I think it's good though, it shows you CARE and keeps you on your toes! Having a power squad of people to reach out to helps with these moments in time.
I had a team for everything! Without their support I wouldn't have made the crossing. It's so important to find your tribe because they will be your support system when you need it.
Training: I had a team to train me that included my swim pod and swim coach.
On-day: A team to help me on the day of the race. We swim with an escort boat led by a captain and his team. Keith Baxter was my boat captain and Mike Spalding his first mate. I was in very good hands. I had two feeders, Michelle Simmons (my swim coach) and Andrew Deutscher (swim buddy)! Both would also take turns pacing me in the water here and there throughout the swim.
A team to help with recovery post-training: my physical therapist and massage therapist.
My internal team: my husband who is my rock, swim community, family and friends.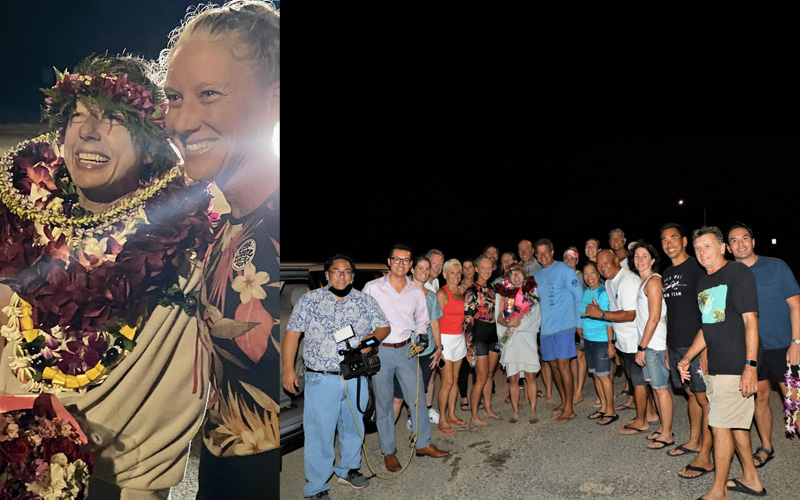 How was the swim?
It was tough, beautiful, and humbling. After the swim, I was overwhelmed with pride, joy and a sense of peace! I DID IT! I realized that this swim wasn't about me, it was about the swim community, family and friends. I felt a sense of relief too…until you finish, nothing is guaranteed. I didn't want to let anyone down, mostly myself.
What advice would you give others to get started to attain their personal goal(s)?
Think big and dream big! You will surprise yourself.
Explore why you set the goal and keep this front and center.
See how you want to be and feel when you attain your goal and never loose site of this as you reach and do all the little steps needed to attain your goal.
There are no shortcuts!
Failure is just another step in the right direction.
Find mentors along the way
Have fun and laugh often
Mahalo Terri for sharing your journey on tackling the Kaiwi Channel Swim!
Additional resources