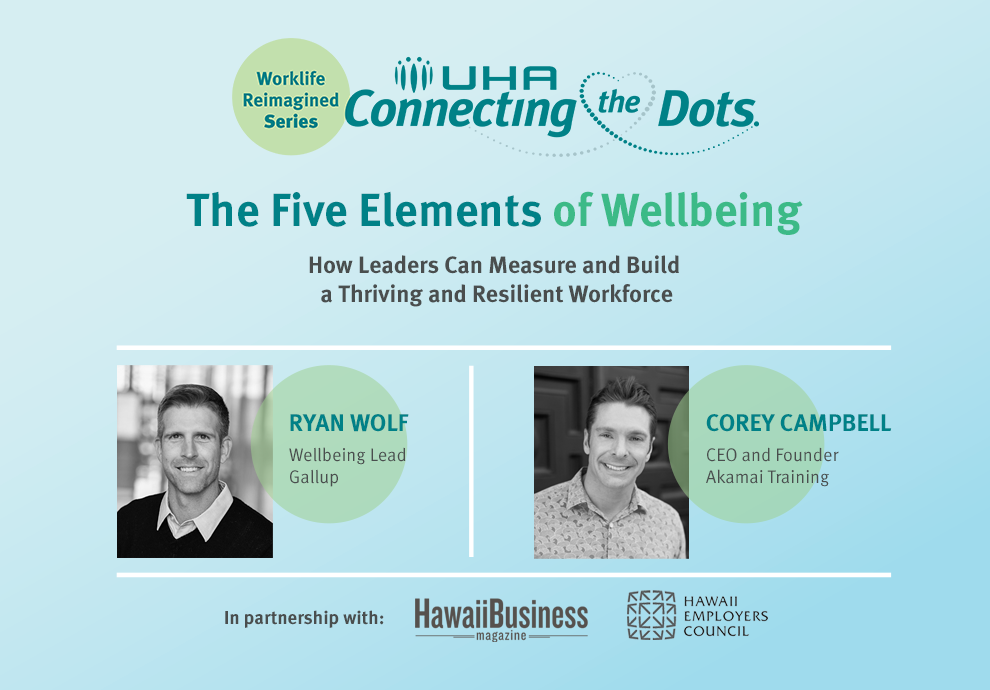 ARTICLE RECAP: The Five Elements of Wellbeing
Ryan Wolf, the Wellbeing Lead at Gallup — a global analytics and advice firm that helps build exceptional workplaces — discussed the company's framework on wellbeing and how it can be quantified to improve health, business, and performance outcomes. Wolf described the five elements of wellbeing:
Career Wellbeing.
Wolf describes career wellbeing as the cornerstone, as it is the greatest significant driver for most people. "What you spend your time doing each and every day shapes your identity," he says, adding that if people enjoy what they do, it positively influences wellbeing.

Statements that indicate career wellbeing:

I like what I do every day.
I learn or do something interesting every day.

Social Wellbeing.
This describes the support that we get from relationships. "Our personal wellbeing is influenced heavily by others — those who we feel support from and those who we feel love from as well," Wolf explains.

Statements that indicate social wellbeing:

Someone in my life always encourages me to be healthy.
My friends and family give me positive energy every day.

Financial Wellbeing.
Financial wellbeing, Wolf says, is about more than income and the amount of money in our bank accounts. "It's ultimately derived by living within our means and managing our money in a way that reduces and eliminates stress from our life," he says.

Statements that indicate financial wellbeing:

I have enough money to do everything I want to do.
I have not worried about money in the last seven days.

Physical Wellbeing.
This is not necessarily about diet and exercise, Wolf says. "It's really about how we can build up our energy and our health so that we can effectively experience and do all of the things that we want to do in our life."

Statements that indicate physical wellbeing:

In the last seven days, I have felt active and productive every day.
My physical health is near perfect.

Community Wellbeing.
Wolf explains that a very basic level, community wellbeing is about feeling safe, and having clean water and access to food. At a higher level, he says, "We have a sense of pride in the place that we live and where we're from, and that we can see our fingerprints in our community and that our labor and our efforts contribute to that special place that we're in."

Statements that indicate community wellbeing:

The city or area where I live is a perfect place for me.
In the last 12 months, I have received recognition for helping to improve the city or area where I live.
Wolf offered the following ideas to address each element of wellbeing within your organization:
Include employees in wellbeing conversations.
Have each employee identify the element of wellbeing they feel comes naturally to them and at which they are most successful.
Recognize employees for their wellbeing achievements.
Follow up to show how much you care.
Create a wellbeing board of directors.
Create a sharing network to communicate best practices.
Intentionally link each intervention to at least one other element of wellbeing.
Include wellbeing goal setting and milestones in work reviews and meetings.
Link the wellbeing of each employee to the successful mission, purpose, and culture of the organization.
"The more we talk about wellbeing, the more it becomes really embedded into the culture of our organization," Wolf says. He recommends asking employees if there are any aspects of wellbeing that you can help support.
Corey Campbell, CEO and Founder from Akamai Training and a Gallup Certified Strengths Facilitator, followed Wolf's discussion with a short presentation on how managers can transition from boss to coach.
Campbell says that when it comes to wellbeing, managers should lead by example, taking care of their own, "health and wellbeing in such a way that you never feel like you need a hospital; that you never feel like you need a day off." He also offers these two daily tips to set yourself up for peak performance:
Start your day with gratitude. Ask yourself which three new things you are grateful for.
Set your intentions. Ask yourself:
What word describes who I will be today?
What is one task that I absolutely must get done?
What is one thing I can do to take care of my mental/physical wellbeing today?
Eager to learn more? Visit UHA Work Well at uhahealth.com/ctd to read curated articles and get needed tools and other resources that educate and inspire.