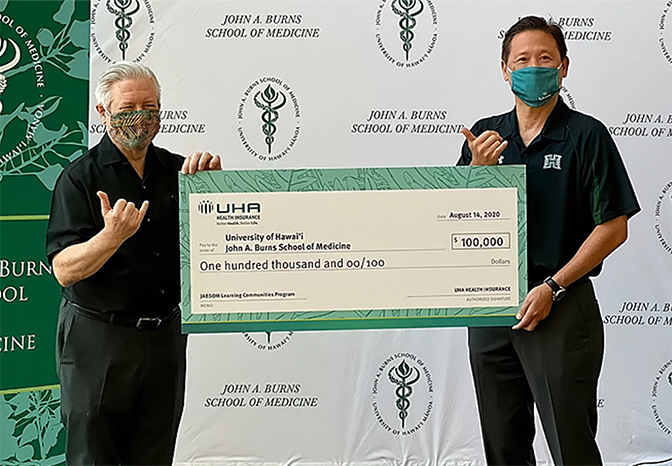 UHA Health Donates $100,000 to John A. Burns School of Medicine Curriculum Fostering Physician-Patient Relationship
-Donation Honors Legacy of UHA Founder Dr. Max Botticelli-
UHA Health Insurance has donated $100,000 to the University of Hawai'i John A. Burns School of Medicine (JABSOM) to underwrite the launch of a new Learning Communities curriculum, an innovative program designed to help JABSOM graduates learn to develop trusting doctor-patient relationships that have been shown to improve health outcomes.
The new program, which began with this Fall's cohort of students, is also being supported by the Dr. Max G. Botticelli Memorial Endowment for lnnovative Medical Education. UHA has been a major contributor to the endowment, which was established by the Botticelli family in 2012 to honor the values he held as a practicing physician, as a member of the JABSOM faculty and as a co-founder of UHA in 1996.
"Dr. Botticelli and other physician-teachers established UHA with the goal of offering health plans that support strong doctor-patient relationships," said Howard Lee, UHA president and chief executive officer. "We believe this is the kind of effort he would have supported and very much hope that this will help attract other donors to a program that is critical to the health of Hawai'i's people."
The innovative program, launched in July, establishes six smaller moku (supportive pods) of faculty mentors and students that will remain together for all four years of medical school. The students in this first cohort of Learning Communities are on track to graduate in May 2024. The Learning Community mission statement is to foster a collaborative environment that supports the growth of clinically competent, culturally sensitive, compassionate and professional physician leaders who are connected and committed to our communities.
"Dr. Botticelli served as a professor of medicine at JABSOM and taught at the Queen Emma Clinic. He was noted for his innovation in medical education," explains Dr. Jerris Hedges, dean of JABSOM. "Implementing new educational tools such as the Learning Community concept to drive curricular innovation, enhanced training in interprofessional teams, patient communication, justice in health care delivery and many other evolving topics is a fitting tribute to the legacy of Dr. Botticelli. As JABSOM produces nearly 50 percent of Hawai'i's physicians, these changes will have a significant impact on the health of Hawai'i."
"Over the years, so many of Dad's former patients have told me how much they missed him when he retired from practice because he spent so much time with them. He felt the relationship between the primary care provider and the patient was the foundation of the care path, and he tried to understand what was happening with their lives and how it affected their health," said Ann Botticelli of her father. "I think Dad would be very pleased to see the endowment we created – and that so many people have supported – directed toward this program."
---
About UHA Health Insurance (University Health Alliance)
UHA provides medical, drug and vision plans to nearly 4,500 Hawai'i employer groups and approximately 59,000 members. As the only health plan in Hawai'i founded by physicians, it was the first to offer preventive and wellness care-focused health plans in the state. It continues to be physician-led and now offers the largest physician network in Hawai'i. By meeting strict quality standards to ensure clinically sound decision-making that respects the rights of patients and medical providers, UHA received accreditation in Health Utilization Management through URAC, the independent non-profit that promotes healthcare quality.
For information, visit uhahealth.com or follow @uhahealth on Twitter.
Media Inquiries:
Deborah Sharkey
Phone: 808.349.8221