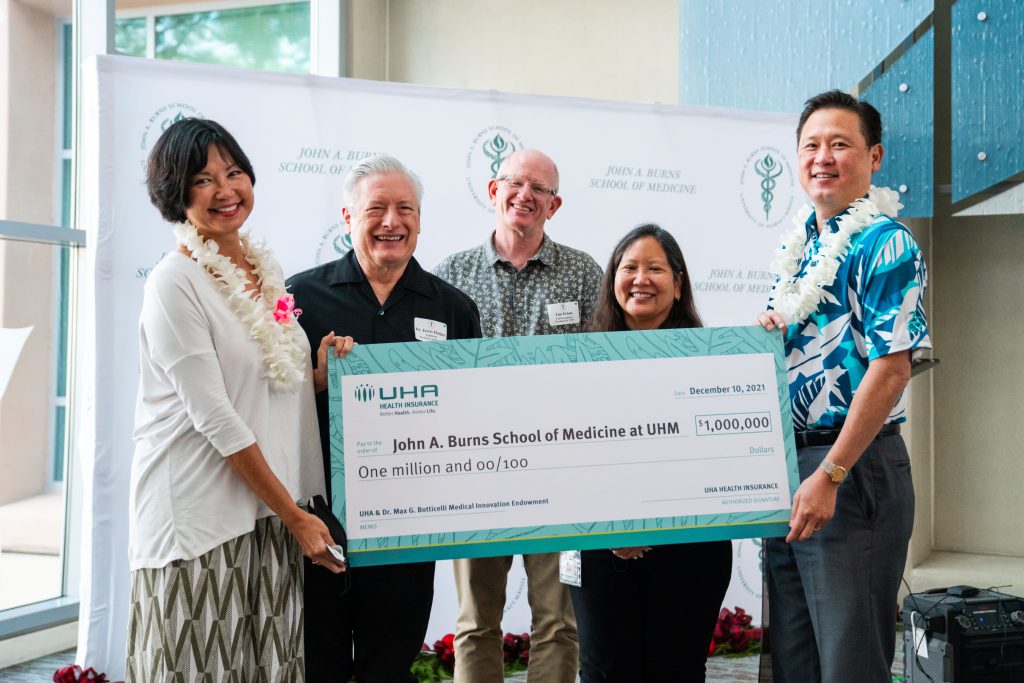 UHA Donates $1M to John A. Burns School of Medicine in celebration of 25th anniversary of founding
Donation honors UHA founding CEO Dr. Max Botticelli
Honolulu, HI (Dec. 10 2021) – UHA Health Insurance is celebrating the 25th anniversary of its founding with a $1 million donation to the University of Hawai'i at Mānoa John A. Burns School of Medicine (JABSOM) to support student learning.
The donation establishes the UHA Health Insurance and Dr. Max G. Botticelli Medical Innovation Endowment, which will support JABSOM's efforts to develop and implement innovative curriculum initiatives, including learning communities and problem-based learning.
In recognition of the $1 million gift, the 3,300 square-foot third-floor student learning center in the Medical Education Building was dedicated to the memory of the late Dr. Botticelli during a blessing event on December 10. He was a legendary member of the JABSOM faculty, practicing physician and co-founder of UHA Health Insurance. Formerly known as the Problem-Based Learning Center, it will now be called the "UHA and Dr. Max Botticelli Student Learning Center."
"As the only medical school in Hawai'i, the critical role of JABSOM in the health of this community cannot be overstated," explains Howard Lee, UHA president and chief executive officer. "We could think of no more fitting way to celebrate our 25th anniversary than to support and encourage the development of our future physicians with this $1 million donation to honor Dr. Botticelli's legacy."
Botticelli was a strong advocate of problem-based learning in which small groups of students discuss clinical cases as part of an educational process, while a faculty member serves as a facilitator. It requires that students take an active role in their learning and fosters critical problem-solving and team-building skills.
UHA and JABSOM have intertwined histories that pre-date UHA's existence: In 1996, Botticelli, then chair of the JABSOM faculty-practice insurance plan, joined other physician-educators to found UHA as a different kind of health insurance company – one with physician leadership and a goal of improving members' health through a focus on preventive medicine and overall well-being.
Separately, Botticelli's family has long supported JABSOM through the Dr. Max G. Botticelli Memorial Endowment for Innovative Medical Education. The fund was established in 2012 to honor the values that he held as a practicing physician and educator.
The $1 million gift is the most recent from UHA to JABSOM. In August 2020, the two organizations announced the donation of $100,000 to underwrite the launch of the innovative patient-centered learning communities curriculum designed to help JABSOM graduates develop trusting doctor-patient relationships that have been shown to improve health outcomes. The program was introduced in fall 2020.
"This donation not only recognizes Dr. Botticelli – one of our founding instructors – but UHA's generosity will create a student-learning center that will deliver unparalleled training for future doctors in Hawai'i," said Jerris Hedges, dean of JABSOM.
"I think it's about the best 90th birthday present anybody could give him," said Ann Botticelli, daughter of Max Botticelli, who attended the dedication event. "To hear him honored today, not just as a doctor, but as an educator and a visionary, and to see this marriage between what he worked his whole life for––a center that's based on the kind of education he wanted to provide for young physicians by the company he founded is very special and touching, and my entire family is very grateful."
About University of Hawai'i John A. Burns School of Medicine
The John A. Burns School Medicine (JABSOM) at the University of Hawaiʻi at Mānoa is one of the leading medical institutions and one of the most ethnically diverse institutions in the United States. For more than a decade, JABSOM has ranked in the top 10% of allopathic medical schools for graduate retention with one of our UH-sponsored residency programs. Hawaiʻ's cultural diversity and geographical setting affords JABSOM a unique research environment to excel in research directed at eliminating diseases that disproportionately affect people in Hawaii and the Pacific region. JABSOM faculty bring in extramural funds of $46 million into the state, annually. In addition, JABSOM was the first U.S. medical school to create a clinical department dedicated to the health and well-being of an indigenous population, Native Hawaiians.
About UHA Health Insurance
UHA Health Insurance provides medical, drug and vision plans to nearly 4,300 Hawai'i employer groups and approximately 57,000 members. As the only health plan in Hawai'i founded by physicians, it was the first to offer preventive and wellness care focused health plans in the state. It continues to be physician led and now offers the largest physician network in Hawai'i. By meeting strict quality standards to ensure clinically sound decision-making that respects the rights of patients and medical providers, UHA received accreditation in Health Utilization Management through URAC, the independent non-profit that promotes healthcare quality.
For information, visit uhahealth.com or follow @uhahealth on Twitter.
###
Contact:
Deborah Dimaya / John A. Burns School of Medicine at UHM
Phone: 808.398.0367
Deborah Sharkey / UHA Health Insurance
Phone: 808.349.8221