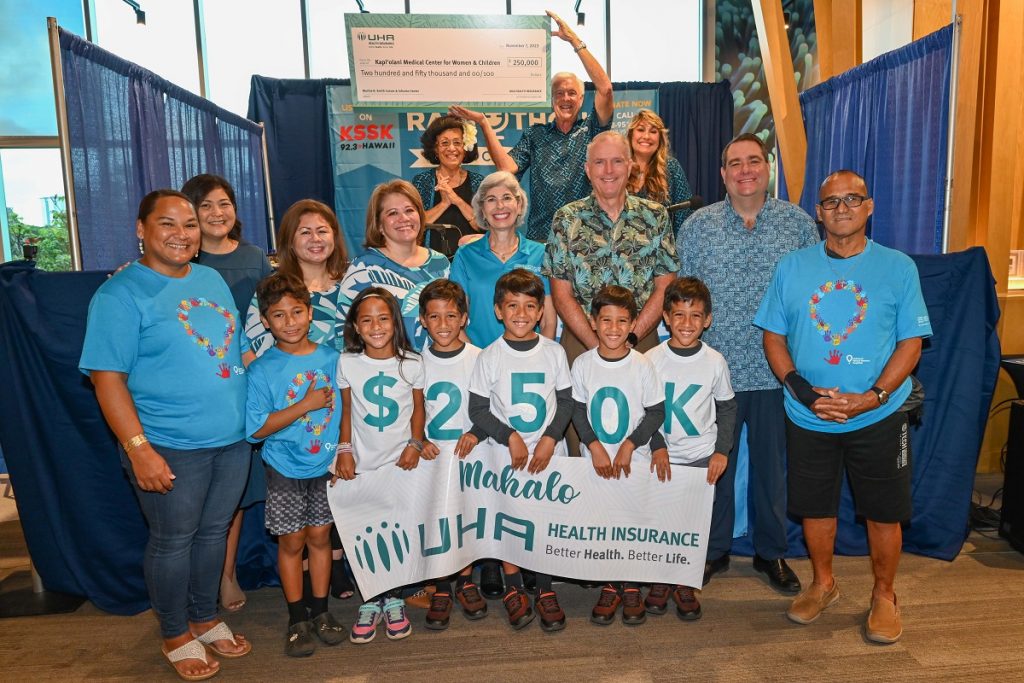 New Record For Largest Single Donation Set On Day 1 Of The 2023 Kapi'olani Radiothon For Kids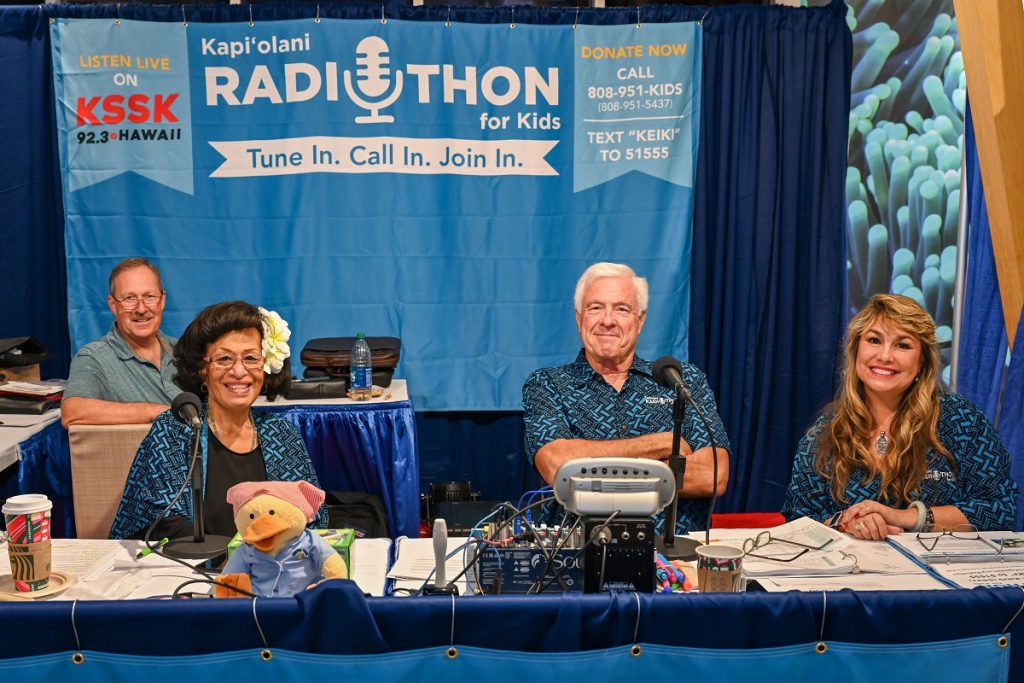 Honolulu (Nov. 7, 2023) – UHA Health Insurance keeps raising the bar when it comes to supporting the Kapi'olani Radiothon for Kids. A new record-setting donation from UHA brought a lot of excitement on Day 1 of the 2023 Radiothon.
KSSK (FM 92.3/AM 590) was broadcasting live on the radio and online when UHA made the surprise announcement. The longtime supporter of Kapi'olani Medical Center for Women & Children committed to matching all donations up to $250,000 on Day 1. The moment was made extra special with the help of Marcie Dela Cruz and her ʻohana. In 2015, Marcie made history at Kapi'olani by becoming the first woman in Hawai'i to give birth to surviving quintuplets. Today, her five children lined up in front of the KSSK stage and revealed the amount of UHA's generous commitment with T-shirts that spelled out "$250K."
This is the single largest donation in Radiothon's 17-year history. The previous record was $100,000, which was also donated by UHA in 2021. This year's gift will go toward a major initiative at Kapi'olani that UHA has been supporting from the very beginning: the Martha B. Smith Cancer & Infusion Center. Once complete, the center will offer state-of-the-art cancer care for women and children in Hawai'i and across the Pacific region in a central, expanded space.
"We are profoundly grateful that we can help honor our longtime friend Martha Smith, a visionary health care leader who dedicated her life to creating a healthier Hawai'i," Howard Lee, president and CEO of UHA, said. "As Hawai'i's only physician-founded health insurer, we hope our gift allows cancer patients to receive high-quality care right here at home, surrounded by their loved ones. I imagine Martha would have liked that."
Another key Radiothon supporter is Philadelphia Eagles quarterback Marcus Mariota. The 2014 Heisman Trophy winner and Hawai'i native recently visited Kapi'olani, and gave pediatric patients and their families autographed footballs, mini helmets and other memorabilia.
"What Kapi'olani does through Radiothon is unbelievable," Mariota said. "Walking the halls and visiting with the kids, I got to see just how many resources are being funded by the community."
Mariota, who has an 11-month-old baby girl, also shared a message for children undergoing treatment at Kapi'olani: "Thank you for being my inspiration. The challenges and adversities I've experienced do not even come close to what you're going through. Stay strong, keep fighting and know that you've got an entire community, an entire state, behind you."
Mariota and his Motiv8 Foundation are among more than 20 community groups, companies and sponsors supporting Radiothon. This year's major sponsors include UHA, AlohaCare, Alternate Energy, Constructors Hawaii, Inc., D. Suehiro Electric, Inc., Farmers Insurance and HMSA.
Listeners are encouraged to tune in for Day 2 of Radiothon tomorrow, starting at 5 a.m. on KSSK. The live broadcast is also available online at KSSKRadio.iHeart.com and on the iHeartRadio app.
To make a donation to the 17th annual Kapi'olani Radiothon for Kids: