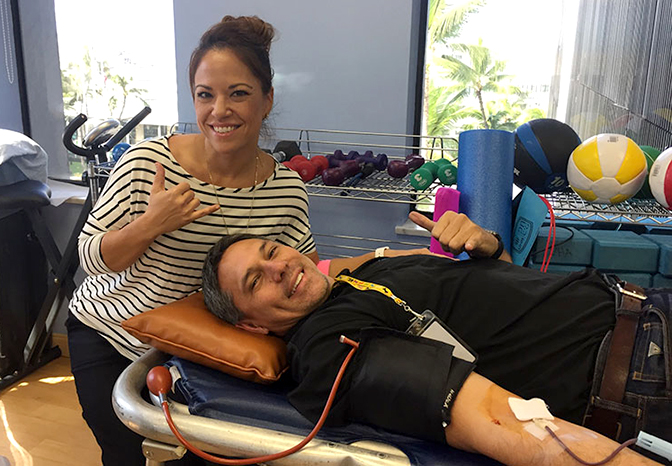 Giving the Gift of Life
in
Blog
by
UHA Health Insurance
Pictured: Blood donors Kelii, our Worksite Wellness Program Administrator and his wife, singer Maila Gibson.
The holidays are a season of giving. This past season, UHA participated in a 3-month wellness challenge against four other local companies. One of the goals was to reach out to our community by finding ways to volunteer our talents, skills and heart to serve those in need.
On December 12, 2016, we partnered with Blood Bank of Hawaii to host an on-site blood drive in our Wellness Institute (UHA's multi-purpose meeting room and office exercise space.) Each of the 43 donors from six companies, including UHA, Primary Properties, Aerotek, Atlas Insurance, Hawaii Dental Service, and Altres made a difference not only for Hawaii's patients, but also for all of their loved ones. The Blood Bank of Hawaii collected 35 pints of blood that day, which will positively impact 105 patients. Each donor's support goes a long way toward replenishing Hawaii's blood supplies and saving lives.
In fact, according to America's Blood Centers, 40,000 pints of blood are needed across the U.S. every day with someone in need of blood every 2 seconds. With a need this great, it's easy to understand why every pint of blood donated is so important and is considered a gift of life to the person who receives it.
We have a handful of associates who either donated for the first time during our blood drive, or have donated regularly in the past. Here's what they had to say about why they chose to donate blood:
"It's easy to do."
Savannah, Marketing Services Support Representative
"It's easy to do, and it's for a good cause."
Laureen, Administrative Assistant
"It's easy, I know it'll help save at least 3 lives and that it will have a direct impact to those who receive the donations. I first started donating at my previous job, because a co-worker was diagnosed with cancer and needed blood for transfusions. After that, I continued to donate regularly."
Chris, Premium Billing Supervisor
"My dad was a lifelong blood donor and gave blood every 8 weeks. 11 years ago on my birthday (December 13), my dad was electrocuted on the job. My dad was my best man at my wedding but never made it to our wedding day two months after his passing. Every year, I try to celebrate and honor his legacy in a different way. Last year, I ran my first marathon on December 13 in his honor since he was a marathon runner. This year, I wanted to coordinate the blood drive on December 12 to give the ultimate gift of life in honor of my dad! I'm so thankful 43 people came out to give the gift of life. Over 100+ lives will be impacted with this generous gift."
Kelii, Worksite Wellness Program Administrator
"I started donating blood when I was at HDS and I've been UHA's Blood Bank coordinator since 2004, I think Emily or someone from HR asked me to be the coordinator. Dr. B and Howard wanted UHA to be one the Blood Bank's Lifesaver Clubs. Donating blood definitely saves lives and is so important as the Blood Bank is always in need of blood and platelets. Every time a UHA associate donates blood they're saving three lives. My blood type is 0+, RH negative, which is kind of rare and usually given to newborns and young children. Years ago the Blood Bank would call me whenever they needed my blood for a specific case at a certain time. One thing that motivates me to continue to be UHA's Blood Bank coordinator is the Blood Bank's annual breakfast. At the breakfast, one or more people would share how their lives were saved from blood transfusions. When you see them and hear their testimonies it really touches my heart."
Arnette, Accountant
"I learned, while pregnant with my first child, that my blood type is A-, meaning my blood is absent of the Rh factor. The short story is that my blood can be donated to only 4 out of the 8 major blood types: A-, A+, AB-, and AB+. However, people with my blood type can only receive A- or O- blood. This puts me in much smaller category of donors and an even smaller category of blood types than I can receive. I knew then that I had to help ensure the Blood Bank has sufficient quantities of A- blood on hand so I joined the Hawaii Blood Bank over 45 years ago and have been able to maintain a fairly consistent donor schedule since Arnette began UHA's Blood Donation Program in 2004."
Linda, Chief Marketing Officer
"I'm a new donor. I was unable to donate in the past due to being deemed "iron-poor", so this was my first time ever. Why now? My mom was recently diagnosed with a serious blood disorder that has made her transfusion dependent. She must now regularly receive blood and platelet transfusions. In fact, she was receiving her scheduled transfusion the very same morning of UHA's blood drive! So I did it to express my personal gratitude and to honor the gift that my mom, and in turn the rest of my family, receives. I'll continue to donate regularly—it's the least I can do to give back and pay things forward for another family."
Suzanne, Marketing Services Manager
You can give whether you have a personal tie to someone who needs blood donations, or just because you can. If donating blood or coordinating a blood drive for your organization is something you want to do, visit Blood Bank of Hawaii's website today for more information.