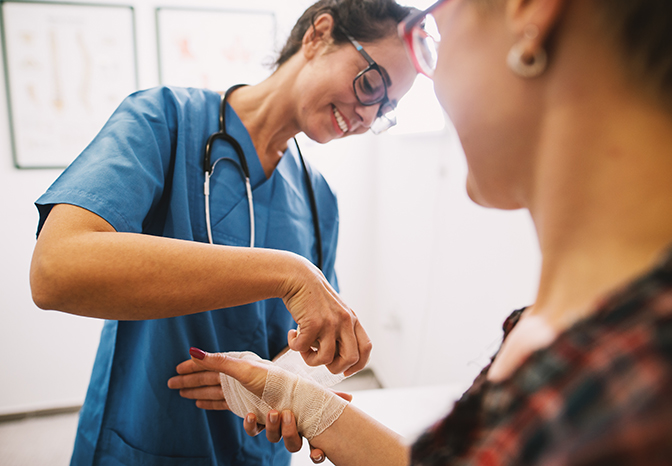 Emergency Room or Urgent Care: Where Should You Go?
in
Blog
by
UHA Health Insurance
When you or a loved one is sick or injured and unsure where to go for care, the Emergency Department (ED), also known as the ER or Emergency Room, is not your only option. When you have a minor injury or illness and you can't see your primary care physician, an urgent care center is a convenient alternative to the ER. Typically, urgent care centers are easier to access, cost less and have shorter waiting times. So when you need medical assistance, how do you decide where to go?
Primary Care vs. ER
Your primary care physician is your doctor – you see him or her for your annual check-up, prescriptions and for non-emergency issues, such as a minor cold. There are times when you cannot see your primary care physician – perhaps he or she is on holiday, it's after hours, or the office is closed on a weekend. In these situations, you don't necessarily have to go to the ER. It's worth it to assess your options and make the best possible choice.
If you go to the ER, there are laws in place to ensure you will be evaluated. But if you don't have an emergent condition, your visit may not be covered by your health insurance. The cost of an ER visit can be thousands of dollars, but don't let cost be your only deciding factor. ER wait-times can be lengthy and patients with non-life-threatening conditions shouldn't be occupying the limited resources of the ER.
So if you can't see your doctor but you don't need to go to the ER, where do you go?
Urgent Care is the Better Choice in Many Situations
Urgent care is a great option when your condition does not require the skills and resources of the Emergency Room. If you have a condition that can safely be treated in your doctor's office, but your doctor is unavailable, choose urgent care. Most urgent care centers are conveniently located and have shorter wait-times than the ER. Plus they are much less expensive than visiting the ER.
Consider going to an urgent care center for the following:
If you have visited your primary care physician before for this condition.
Prescription refills or work notes.
Minor illness (like a runny nose or mild sore throat) or minor injuries.
Experiencing symptoms of a chronic problem for which you are already being treated.
Need a routine follow-up visit for something that has already been treated (even if it was previously treated in the ER, such as wound-checks or removal of stitches).
Urgent care is an efficient and effective choice for non-emergencies. However, you should still be able to identify a real emergency and go to the ER, if necessary.
Go to the ER for True Emergencies and Life-Threatening Conditions
Make no mistake, sometimes going to the ER is the correct course of action.
Generally, you should go the ER if you have:
A serious injury (eg, a severe cut, burn, or head trauma, broken bones, poisoning or overdose).
New or worsening symptoms (eg, a severe allergic reaction, chest pain, sudden weakness on one side of your body, trouble breathing, loss of consciousness, convulsions or seizures, sudden onset of a severe and unexplained headache).
A serious medical condition (such as uncontrolled diabetes, asthma or heart disease) and are experiencing any symptoms your doctor has told you to be concerned about.
Emergent concerns after discharge from recent hospitalization or surgery. (Tip: Ask your primary care physician, obstetrician, or pediatrician where you should go if you have an emergency). If possible, you should go to the ER in the same hospital. Your care will be more efficient, and some studies have shown that your outcome will be better.
When you have a serious or life-threatening condition, don't hesitate – go to the ER.
Understanding the available care options is important for everyone in our community. When only those with true emergencies go to the ER, the Emergency Department can operate efficiently – and provide life-saving care to those who need it. You belong in the ER if you have a new, serious injury, or you have new or worsening symptoms such as chest pain, weakness, trouble breathing or stomach pain. When you don't know the cause, the ER is a safe bet. When you know with 100% certainty that you are experiencing a non-emergency, choose a walk-in clinic or urgent care center. You'll receive faster, more tailored service, avoid unnecessary costs, and you'll be allowing the ER doctors to focus their attention on saving lives.