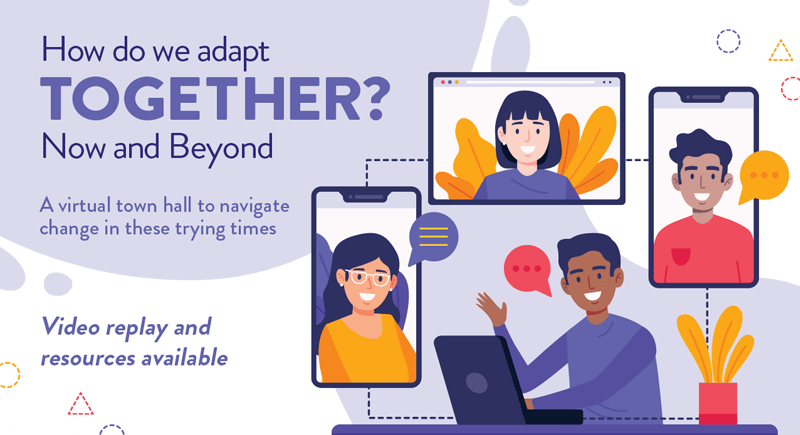 ARTICLE RECAP: How do we adapt Together? Now and Beyond
in
Blog
by
UHA Health Insurance
As a COVID-19 culture emerges around the world, we are all trying to figure out how to deal with fear of the unknown, restrictions on our daily lives, and the negative effects of isolation. Though we are living in tumultuous times, one thing is certain: We will get through it — and we will come out stronger on the other side if we adapt together.
On November 13, a townhall-style, UHA webinar provided an opportunity for members of the community to virtually gather and discuss ways to navigate these changes, find connection, and learn how to manage their daily lives now and beyond the pandemic.
Pono Shim, a gifted storyteller and president and CEO of the Oahu Economic Development Board, led the discussion. He was joined by Robin Kobayashi of Hawaiian Airlines, Dailyn Yanagida of Hogan Financial Group, and Sarah Guay of HEMIC. These panelists responded to various attendee questions, such as: How do we maintain transparent communication while working remote, and how can we create and/or maintain company culture while everyone is not physically together?
Sarah recalled that when her team began working remotely back in March, she met with all the company's managers to ensure they were connecting with their employees for weekly check-ins. Though these regularly scheduled meetings provided structure, she said, "What we learned over time was that it's less about quantity and more about the quality. And the quality really comes from curiosity, and asking questions, and asking what's on people's minds."
Rather than going into those interactions with a preordained agenda, it was more effective to simply use the time to have genuine conversations. Pono added that transparency is often used as a tool against people rather than a guide for communication. "I believe that I have to continuously earn the confidence and the trust of the people I work with," he said.
Being transparent to earn confidence and trust goes hand in hand with maintaining company culture. Robin acknowledged that the concept of culture is something most people associate with existing in person. "It's really hard to feel and want and remember to be connected to each other (while working remotely)," she said, explaining how crucial it is to create intentional moments to find connection with those you work with. It's not just about business — it's about carving out time to talk about what everyone is thinking and feeling.
"I agree with Robin wholeheartedly that it has to be intentional," Dailyn exclaimed. She remembers how she and her former boss would have weekly one-on-one meetings; each one always started off with the same question: How are you doing? Dailyn emphasized that her boss wasn't just asking the question — she truly wanted to know the answer; and if her response led to a conversation about something personal, philosophical, or even political, it didn't matter, because it didn't have to be about work. That time was carved out specifically for them to connect on a real human level. "That's part of company culture," Dailyn said. "Authenticity all the time."
To learn more about navigating change during these trying times, view the full webinar recording. Next, sign up for updates from the UHA Resource Hub, which contains a wealth of information for keeping you and your organizations healthy and well. Lastly, continue the conversation and request to join our LinkedIn group, "Hawaii Wellness Leaders".
For additional information, contact Senior Workplace Wellness Advisor, Mike Story, at 808-522-5572 or [email protected].