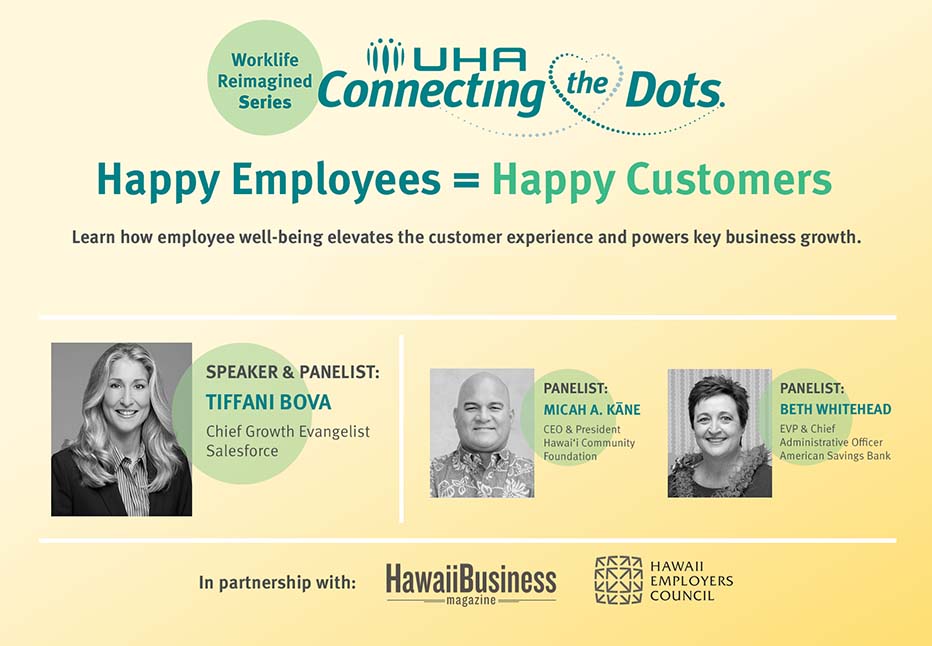 ARTICLE RECAP: Happy Employees = Happy Customers
in
Blog
by
UHA Health Insurance
We were pleased to welcome keynote speaker and Punahou alumna Tiffani Bova, who shared her expertise on how creating an employee experience built on trust and transparency transfers to the best possible customer experience. Following her presentation, Bova was joined by American Savings Bank Executive Vice President and Chief Administrative Officer Beth Whitehead, as well as Hawaii Community Foundation CEO and President Micah A. Kāne for a panel discussion.
When Employees Love their Job, Customers Love Your Brand
Bova, who is currently the Chief Growth Evangelist at Salesforce, explained that while Salesforce was named one of the best places to work in the world, it was simultaneously known as one of the fastest growing enterprise software companies. She believed the two accolades were linked and sought to prove her hypothesis. After completing a collaborative study with Forbes Insights, Bova concluded that the fastest way for a company to get customers to love its brand is to first get their employees to love their job. Highlights from the study included the following discoveries:
76% of revenue growth leaders rank employee experience as a top priority in the next three years, while only 29% of laggards do.
89% of revenue growth leaders say that improved employee experience leads directly to improved customer experience.
51% of executives say that fast revenue growth does not automatically improve employee experience.
Whitehead maintained that growth in revenue does not equate to progress in employee experience; her team at American Savings Bank had poor employee engagement and worked hard for a decade to make improvements. "We focus on our employee experience and have made it a priority for the past decade," she said. "When we started on the journey, we had a really low employee engagement score: it was 37%. Now we've scored 90% or higher on a consistent basis for 12 years in a row. We have been named one of the best places to work in Hawaii, and have even cracked some of the national lists."
Focusing on Both Customer and Employee Experience
The number one organizational challenge, Bova said, is that executives confirm their organization is dedicated to focus on either high customer experience or high employee experience — not both. "If you focus on employee experience," she emphasized, "you will have a better customer experience."
Revenue growth is 1.8 times faster at companies that do have high customer and employee experiences versus those that don't. To put things into perspective, Bova explained that for a billion-dollar brand, that equals a $40 million impact. Even for smaller companies, those numbers are significant.
Current Company Challenges
Unfortunately, she added, there are three factors that are preventing companies from taking action:
There is a shared lack of vision between employee experience and customer experience leaders at the highest decision-making levels, as well as a resistance to cultural change.
Executives are failing to consistently enhance both employee experience and customer experience, regardless of how the company is doing financially. Even in times of revenue growth, there must be a focus on enhancing these experiences to prevent burnout and staff turnover.
Teams are currently isolated. 40% of executives say that creating teams that combine both employee and customer experience skills is the best way to succeed.
How to Take Action
In summary, changing a company's current actions, or lack thereof, will result in high employee satisfaction and engagement. This will lead to a better chance of having a strong customer experience; this then gets customers to buy more frequently, and/or spend more money with you while becoming a fan of your products or services and advocating for your brand. Steps companies can take include:
Aligning the company with strong leadership and as well as a strong, clear vision.
Aligning IT and operational strategy to focus on customer experience.
Incentivizing cross-functional teams to enhance both customer experience and employee experience.
Investing in technologies to measure customer experience and employee experience.
Cultivating Trust
Bova said taking these steps will help to cultivate trust, which is the core of every relationship and thus the foundation of customer experience. She shared the following stats about happy customers:
93% are more likely to recommend a company they trust.
86% are more likely to share their experiences.
88% spend more money.
95% are more likely to be loyal.
She added that in addition to building trust, it's important to ensure your values align with those of your customers. In fact, 61% of customers have stopped buying from companies whose values did not align with their own. This value alignment holds true for employees as well. "Each of these things plays a role in attracting employees, keeping them, and having them be satisfied and happy," Bova said.
"The most important thing for us," added Kāne, "is that we develop a relationship with our employees and be authentic. They know personally that we care for each and every one of them. I think it boils down to two things: being intentional and being extremely authentic."
Replay the "Happy Employees = Happy Customers" Webinar
Watch the recording, view the transcript, and more!
Eager to learn more?
Visit UHA Work Well at uhahealth.com/workwell to read curated articles and get needed tools and other resources that educate and inspire.
Save the date! Our Worklife Reimagined series continues on September 2 at 11 a.m. Ryan Wolf, from Gallup, will share research and tools from Gallup's newest book, Wellbeing at Work, to help leaders with strategies they can put into action to build resilient and thriving teams in the key elements of well-being.
For additional information, contact Senior Workplace Wellness Advisor, Michael Story, at 808-522-5572 or [email protected].